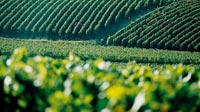 STARTING OUT FROM AVIZE
The creation of the Oudinot Company dates back to the end of the 19th century when Jules Edouard Oudinot decided to make his own champagne using grapes from his vineyard in Avize. It was the start of a long family history as, after 40 years at the head of his company, he passed the torch onto his son Marcel, who would himself manage the Company for the same length of time.
In 1981, Marcel Oudinot sold his Company to the Trouillard family (who owned Château Malakoff), another well-known Champagne family.
Under the management of Jules Edouard and then of Marcel Oudinot, the company's sales soared to reach 500,000 bottles. The takeover by the Trouillard family, who owned an extensive vineyard, would enable it to diversify its grape supplies and continue its sales development.
In 2004, the company became part of Groupe Laurent-Perrier who acquired Château Malakoff.
Today, Champagne Oudinot exports almost all of its production particularly to Northern Europe, the United States and Great Britain.
The Champagnes Oudinot are renowned for their elegance and freshness as a result from the importance of Chardonnay in the blending.